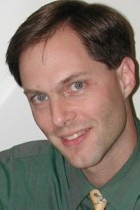 Jefferson Scott Bio
As mentioned on the front page, Jeff is a mild-mannered author and book editor living in Colorado Springs. He and his wife have a daughter and a son and are in the process of adopting a little girl from China.
Jeff holds a BS in Film Production from the University of Texas at Austin. Prior to that, he was a theatre major (acting) at Trinity University in San Antonio. Jeff also holds the Master of Divinity degree from Southwestern Baptist Theological Seminary in Fort Worth.
Jeff's first novels appeared in the mid-1990s, followed in the early part of the 21st century by his Operation: Firebrand novels. His nonfiction books were published in 2003 and 2005.
In 1999 Jeff came on staff with Multnomah Publishers in Sisters, Oregon, as an editor. Over his career he has been on staff with Multnomah, Strang/Realms, and NavPress.
In two stints as a freelance editorincluding right nowhe has edited or written for the following publishers or publications: Multnomah, Barbour, Strang/Realms/Siloam, Westbow, Howard, WinePress, Wesleyan House, NavPress, Publishers Design Group, Christian Single, HomeLife, and Life@Work.
Jeff is an intermediate guitar player (acoustic), an avid computer gamer, and a die-hard Dallas Cowboys fan. He drinks Mountain Dew, loves Mexican food, and is left-handed.
A thrill of his heart is to promote Christian speculative fiction and to help aspiring Christian novelists learn their craft. He pursues this passion at www.WhereTheMapEnds, his other Web site, and as a faculty member at Christian writer's conferences around the country.
And in October 2008 Jeff became the founder of Marcher Lord Press, a small indie publishing company dedicated to producing the finest in Christian science fiction, fantasy, and other wonderfully weird genres.
The Book of Jeff's Heart
If you want to see what Jeff would be working on if he could work on anything, click here.
This epic fantasy is the book of Jeff's heart. He's been working on it since 2001, on and off, and has upwards of 100,000 words written just in notes, backgrounds, maps, character histories, and invented cultures!
The prologue and chapter you can see at the above link may eventually be thrown out, but they give you a sense for what this book will be like.